Hello Friends!
I wanted to share a few of my favorite finds from the Rose Bowl flea market.  I absolutely love going to this!  It's so much fun to see the crazy things that vendors have and the awesome steals that people are walking away with.  I go with the whole family, two strollers and all, so we get there at about 9am for the cheap seats.  Even though it's later than my husband, Ed and I would like to get there, we still manage to score something fab almost every time.  Plus, isn't shopping just too much fun?!  I have a girlfriend that says shopping is her hobby – You go girl!
So, I saw this amazing desk with gold drawers and rivets!  I love the thick piece of glass and round wood feet.  The combo makes this truly special.  Isn't it TDF?!
We chatted with the sellers and they were asking $1,100 which may sound obscene by I really think that it was a pretty fair price.  We agreed that it was from a top designer and between me and you, I'm sure it's worth way more than that.
The other reason I loved it is because it's an easy look to steal and super versatile; you could use the bottom drawers as two nightstands or side tables, you could get a third set of drawers and put it in the middle for storage or tv console or whatever!
Here are some of my favorite substitute options…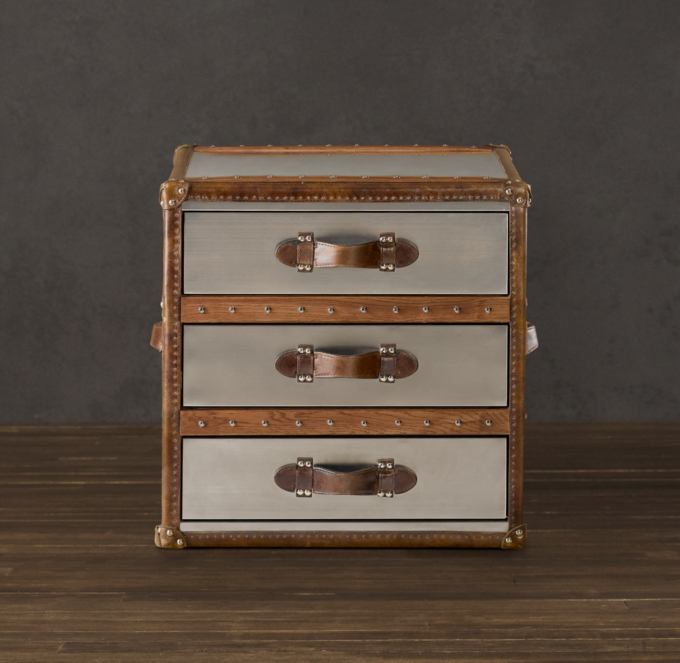 Anyhoo, you get the idea.  Now the price doesn't seems so bad, eh?  Just that honking' glass piece is probably a few hundy.
Then I saw this super cool lantern chandelier.  I had Ed take the picture for me… and well, you see what happened…
He's so funny!  He took a picture of this lamp instead of the lantern.  But you can see it in the back, to the left.  Imagine it in red or chartreuse or shiny gold…$150
You really have to look closely here.  It's a small iron bird that attaches to a table to hold needles on it's back (there's a cork inset) while sewing.  The mouth even opens when you squeeze the tail feathers to keep track of your thread!! $65
This table and set of chairs fold up!  You can keep it tucked in a closet, which is so practical.  Or, if I were to go for it, I'd put it in a kids room.  I love the bamboo details and the fact that it's actually made of plastic – easy to clean, easy to move around!  $80
The lines of this chest are rad.  I'm imagining a bar with swanky glasses and a decanter on top.  $250
Last but not least, this hand carved lotus plant!  This thing is about 10 feet tall, probably why it's even still available at 10:30 am!!  It's definitely a show stopper, but you're gotta have the space for a beast like this.
Darn, didn't get a shot of the bottom, which is killer!  Nuts.  I'll get better at this – promise.
So… which one did I end up with??